BATHROOM DECOR IDEAS
FOR TEENS
How to create comfortable, fun and luxury bathrooms for teenagers.
Chances are your teen's bathroom decor ideas are a lot different from your own bathroom decor ideas.
---
You may think your teens are ready for a little sophistication and savvy style, but although they may be ready to move past the whimsy preference of youthful themes, they're not quite ready to embrace the luxury bathrooms their parents favor.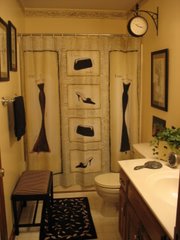 Luxury bathrooms for teens are bathrooms that are a little grown-up, but still fun, funky and uniquely their own.
Teens are typically messy, so the first consideration in designing their bathroom is to incorporate organization into the bathroom decor.
Ideas for storage must be carefully thought out and cleverly implemented into the design in order to keep cosmetics and grooming paraphernalia from becoming clutter.
Explore bathroom decor ideas that are fun and upbeat. Opt for unusual storage options that are complimentary to the teen's carefree personality.
Storage
Bathroom wall decor can be a functional part of the design in addition to decorating the space.
Cut out the wall between the studs to make shelves for toiletries and paint them in a contrasting color to the wall. The result will be original, dramatic and it will serve a purpose.
---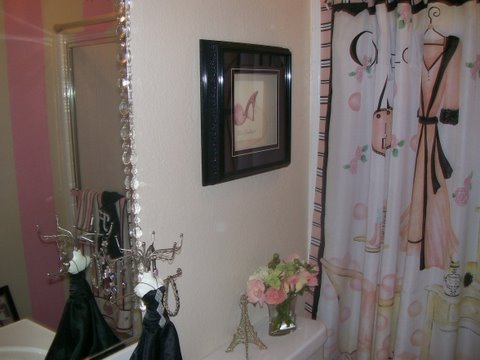 Courtesy of Colleen Ferryman
---
Use stackable baskets in drawers or on the vanity to store little items that clutter up the countertop; hairbrushes, combs, tweezers and razors are usually left on the counter and either get lost or litter the space.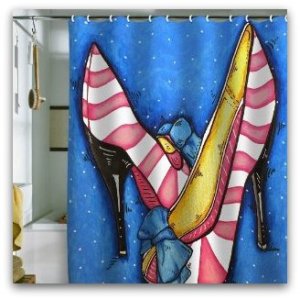 Bathroom wall decor that's has shelves and compartments are a handy way to store everyday items while still having them accessible. Shadowbox picture frames that open in the front make wonderful display cases for perfume bottles and after-shave.
Teens love shower curtains that have pockets; they're handy for keeping razors, shaving gel, shampoos and conditioners close at hand.
If closet and drawer space is minimal, organize hair dryers and curling irons into wall art; place colorful hooks on the wall and hang them near the vanity.
Use appliances that have retractable cords. There's nothing appealing about a cord dangling haphazardly down the wall. (Caution: Use electric appliances near the sink only if there is proper grounding for the outlet).
---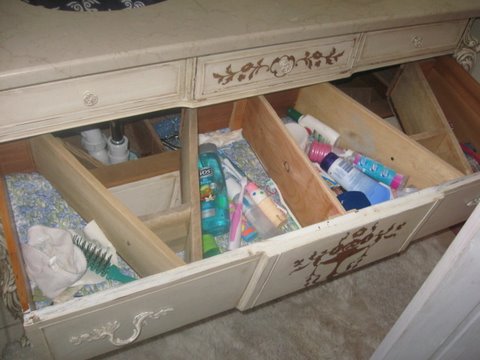 Courtesy of Jan Byrne
---
Mirrors for Bathrooms
Teens love to primp – especially girls. They'll spend countless hours experimenting with new make-up and creating funky new hairstyles. Their ideas of luxury bathrooms are rooms that have ample reflection.
Three-way mirrors installed over the vanity translate into luxury for the self-concerned teen. Fastidious teenagers can never have too many mirrors.
For bathrooms that are limited in space, install a full-length mirror on the back of the bathroom door. Head-to-toe reflection is an absolute must.
---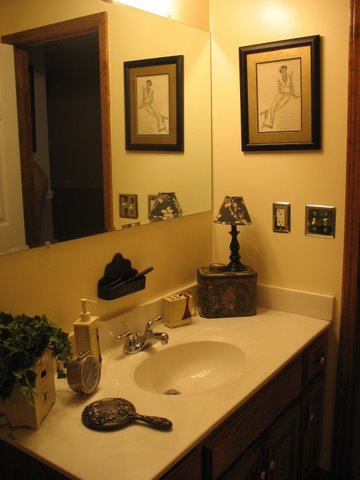 Courtesy of Tina Seal
---
Vanities – Style versus Function
Although pedestal sinks are trendy right now in luxury bathrooms, they're not the best choice for teens. Cosmetics, toiletries and a variety of hairstyling appliances need to be placed at their fingertips while they're being used.
Vanities with deep drawers and spacious countertops are perfect for convenience, storage and for maximizing space. (Girls like to buddy-up with their girlfriends for makeovers. At any given time, there may be several girls all using the vanity area at once).
However, it's not just the girls who need the vanity space; boys have become almost as complex with their grooming as girls; skin-care products and hairstyling tools are now a part of their grooming regime too.
---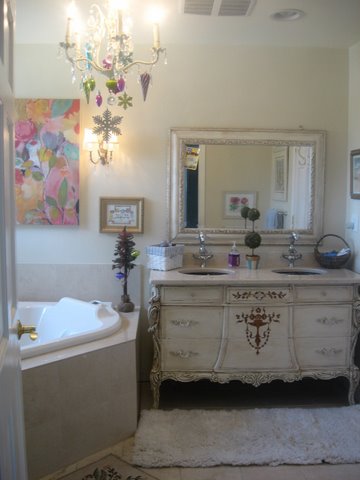 Courtesy of Jan Byrne
---
Color Schemes for Bathroom Decor
Teens usually have favorite colors and are more apt to want bright, bold colors. They love to mix and match color and design, so the use of contrasting colors when choosing bathroom wall decor and accessories will make the room exciting and vibrant.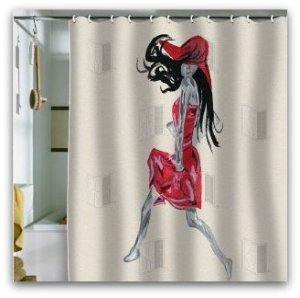 For the bold personality, think of daring combinations for bathroom decor ideas such as hot pink and lime green (for girls), deep orange and bright blue(for boys), or any vivid color combination that reflects their personal style. Bright colors create drama, a delightful stereotype of the teen personality. Plus, they make a definite statement and teens love that!
If your teens (boy and girl) must share the same bath, define their individual space.
Paint the wall a neutral color that doesn't suggest gender, then accessorize with their individual coordinating or contrasting color. Divide the vanity area in half by using a floor-to-counter-top divider that will designate each space. Individual colored towels will also eliminate the fights over who used the last clean one.
---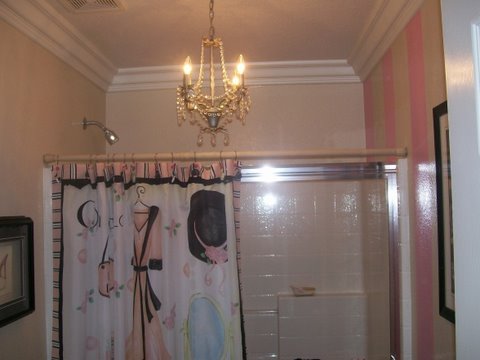 Courtesy of Colleen Ferryman
---
The main thing to remember when you are looking into bathroom decor ideas for your teens is to let them have fun and choose their own design. Expressing their own opinions and asserting their individuality is what they do best.
Return from Bathroom Decor Ideas for Teens to Home page