CLOSET
ORGANIZATION SYSTEMS
Unique and Convenient Closet Organization Systems that Even the Kids Will Love!
---
As a parent; you have come to realize how important it is to stay organized. With the abundant amount of items, toys, clothes, and games that each child has; the closet can easily become disarray. This can be a parent's nightmare!
This is why investing in closet organization systems is absolutely vital in maintaining cleanliness. At least it helps tremendously to win the ongoing battle of keeping a child's room clean. Luckily; there are many products available that can assist in keeping everything in its rightful place.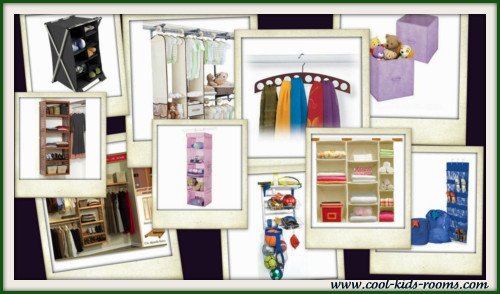 The first concern that many people have is size. Regardless of how small or large your child's closet may be; you can easily utilize storage containers, wall hangers, and much more. There is something for any sized closet as well as preference for items.
So, what are some of the different closet organization systems available and how can they help?
---
First off; when you have an infant; there are many products that become necessities on a daily basis. This doesn't mean that you have to store them all in bag.
For instance, the Nursery Closet Organizer is a 24 piece item that conveniently hangs in your closet and out of the way. There are places to hang clothes, closet dividers perfect for storing bibs and baby clothes, drawers for keeping lotions and creams, along with a hanging storage divider perfect for shoes.
It's an all-in-one item with stellar reviews by parents that enjoy keeping everything neat and easy to find. It is considered a time saver since caring for a baby is active enough!
---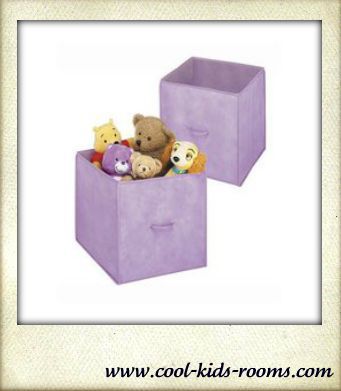 And once they become a little older; you can switch to Storage Cubes perfect for containing the growing amount of toys and stuffed animals. Children will always have their favorite toy and bear while the others are typically found throughout the room.
Luckily; Storage Cubes are square shaped with the front handle which makes them easy to pull out of the rack. You can stack these onto each other for the perfect and stylish organized closet. And when they are not in use; you can collapse them and store it under the bed for another convenient solution.
---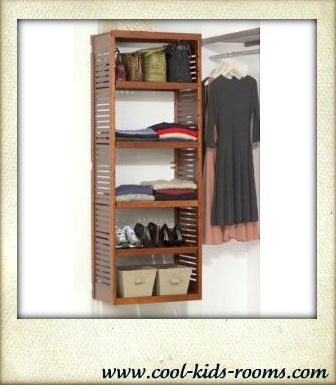 But, sometimes it's just additional storage that is needed to keep the closet looking organized. The Deluxe Stand Alone Tower is wall mounted with wood constructed dividers perfect for storing many different items.
Even if toys aren't your biggest battle; you can still organize shoes, clothes, linens, blankets, and more. It provides convenience as well as limits the mess that can accumulate on the floor! There are even options to add on additional features such as drawers and pulls.
But, if you're looking for extra hanging spaces; you can find it by the slats on the side. Found in cherry wood; this Stand Alone Tower has become a parent's favorite for storing items and knowing where to find them on another day.
---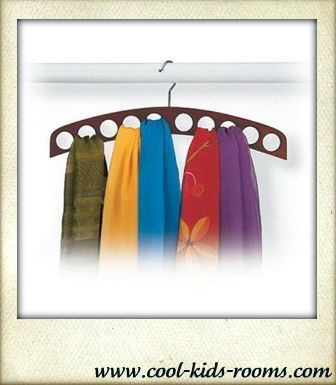 However, many people have enough items in their closet where they can't afford to hang anything else.
Luckily; the 10 Hole Scarf Holder is another solution for keeping things neat and organized. This particular product actually hangs in the closet and is known to keep accessories in line. It's made from wood with ten convenient holes for placing many different things.
In this case; storing scarfs would be the best solution, but there are other items that parent's have found this Scarf Holder to be used for. For instance; the holes can also store belts, blankets, and toys such as jump ropes.
It blends in with the rest of the hanging clothes and doesn't take up space making it one of the best closet organizers voted by parents and kids!
---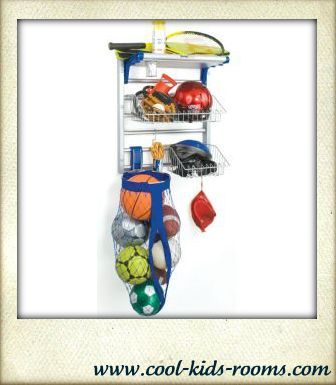 And since children constantly get older; this also means that the items being stored will change as well. This is why having a closet organizing system is important especially for those that are engaged with sports.
In fact, the Sports Organizer System has become a parent's favorite since it mounts on the wall and gives plenty of places to store equipment. This includes a hanging net perfect for the array of balls used for each activity!
But, the biggest convenience for parents when it comes to wall mounted organizers is their ability to remain off of the floor. It doesn't get any better than that!
---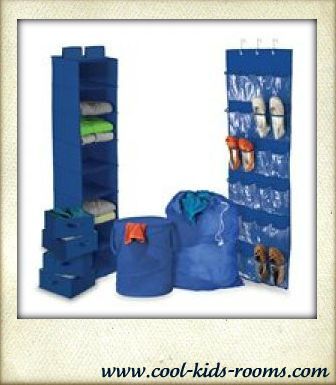 And as many parents know; boys will be boys especially when it comes to organization!
This is why the Room and Laundry Organizer is a great addition to his clean and neat looking closet. You probably thought it would never happen! This 8-piece organizer comes in the color blue perfect for any theme and has many different storing abilities within one.
First off, the hanging shoe rack conveniently is placed on the door and has 12 slots that can store socks, shoes, and even toys. In addition; there is an 8 shelf hanging organizer with optional drawers that can store linens, clothes, and more. The best part about both of these items is their ability to hang out of the way!
For some extra help; the mesh pop up hamper can easily be stored in the corner of the closet and is perfect for keeping dirty laundry off of the floor. And once everything is full, you can use the mesh laundry bag to keep everything organized when washing clothes.
This convenient Room and Laundry Organizer is one of the best ways to keep everything looking neat even in a boy's room.
---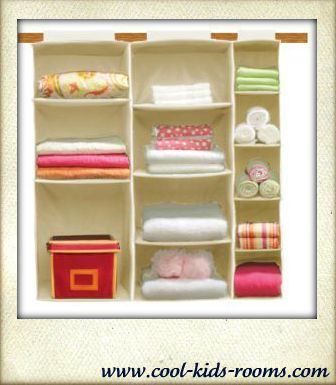 When it comes to kids rooms; it is obvious how much control that linens and blankets have. In fact, if you allow it; they can take over the entire room!
This is why the Complete Linen Closet has become a favorite for keeping the closet organized. This particular unit hangs on the current rods to prevent from adding on units to a cluttered area. It is soft to touch and has open areas for you to store boxes, blankets, linens, and towels.
Since the entire unit is separated by three individual organizers; you have the choice on how many cubbyholes are available for storing. It has mostly been used in an infant's room, but many parents have found plenty of organizational possibilities with older children as well.
---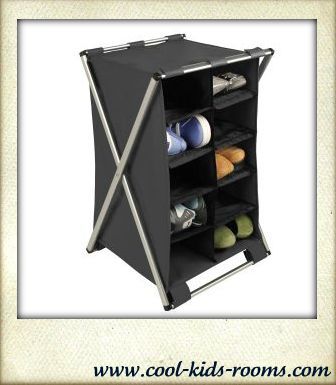 And when referring to shoes; a parent already realizes how quickly children can grow out of them! This typically means that the amount of shoes your child will own can clutter an entire closet.
However, with a Compartment Shoe Rack; you can now store them in the corner of the closet and out of the way. This is a collapsible unit found in black that offers 10 compartments for shoes, books, toys, and much more.
Regardless of it being called a shoe rack; you can really use it for any organizational need. And best of all; it's soft to the touch and safe.
---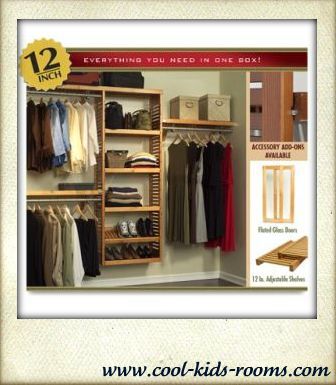 But, for parent's that are looking for a sophisticated and clean way to organize a closet; then the Wood Closet Organizer System is your best choice.
Each item can be purchased separately to fit your particular space making size the last thing that you have to worry about. In fact, you are able to completely remove all of the current closet rods and create your own!
It is found in honey maple and offers storage shelves, hanging rods, and compartments perfect for a variety of sized items. And what makes this unique and desirable is the ability to adjust most of the compartments and pieces to fit perfectly into your personal closet. It's the most sophisticated style that can grow with your child!
---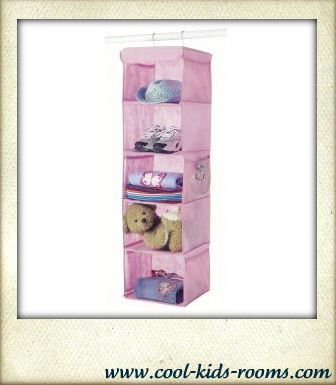 Lastly, even little girl's should have the option to organize with style. If that's the case; then make sure to check out Hanging Accessory Shelves.
Like most of the perfect closet organizers available; this one hangs on a current rod and can be pushed to the side. It is found in pink making it appropriate for any girl and has been known to store shoes, toys, linens, and more.
In fact, there are five storage shelves just waiting to be utilized! You even have the option of purchasing multiples units and making a large closet organizer; the possibilities are endless!
These closet organization systems are just a small example of what is available. It's hard enough keeping things clean when you have a child and their room isn't any different.
Utilizing closet organizers is one of the smartest decisions that you can make! It keeps the room looking neat, makes it easy to locate stored items, and best of all; it keeps your sanity in check. Besides; even the kids will learn how to start putting things away!
---
Return from Closet Organization Systems to Kids Rooms Home Page
Top Of Closet Organization Systems
---