15 BUDGET DECORATING IDEAS FOR KIDS ROOMS
THAT WILL SAVE YOU MONEY!
Are you looking for
decorating on a budget ideas?
If you are in the market for budget decorating ideas for kids rooms, you are likely to benefit from the information contained within this guide.



---
It is absolutely essential for children to have their own space, decorated in such a way that reflects their unique personality and style. However, redesigning a room to incorporate these areas of interest can be quite challenging when it comes to the finances. In this guide, I will share 15 great budget decorating ideas for kids rooms.
---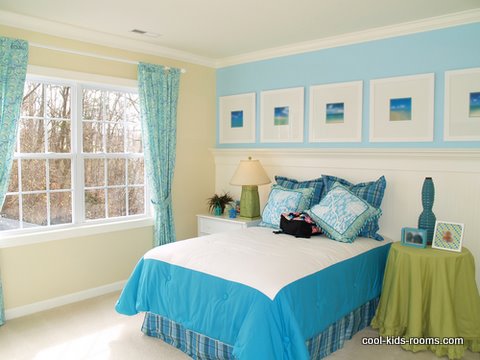 ---
Choose the Theme
One of the most important aspects of decorating kid's rooms is the theme that you and your child elect to integrate throughout the room.
There are many different themes that are perfect for a child's room, such as favorite cartoon and/or movie characters, hobbies such as various types of sports and similar activities, as well as color in general.
You can choose to incorporate a particular theme by decorating with paint, choosing bedding to compliment the colors used, or even placing wallpaper in the room.
---
---
Where to Shop
If you are decorating on a budget, it is important to ensure that you are selective when it comes to the purchases that you make on supplies such as paint, furniture, artwork, bedding, and similar products.
Purchasing from a wholesaler, garage sales in your community, flea markets, and even local thrift stores will result in your saving a lot of money on the items than if you were to purchase them "new".
Connect and Share
Decorating on a budget when it comes to kids room takes strategy. It also takes a little time and patience. You have to know, right up front, how much that you have to spend, the best places to seek out deals, and the time to dedicate to the process.
If you want to speed things up a bit, try checking out a community that is referred to as "Free Cycle Network". This network is a community of individuals that have items that they would like to share with others, for free, in exchange for items that they need. You will be amazed at the products that you are able to gain access to and it can give you more budget decorating ideas!
---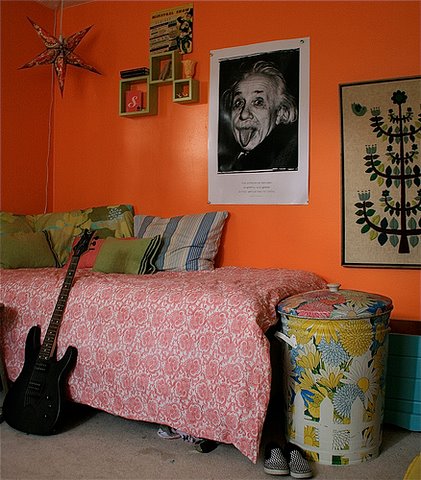 Budget Decorating Ideas
Courtesy of Theresa Foster from Outofthebox photography: "This is my favorite hobby, next to photography.
I call it "garage sale chic" I spent less than $75 for everything there except the bed and the guitar.
The vintage tree embroidery was 50 cents.
$1 for the mod trash can (hamper).
The green wall boxes were $1.50.
The duvet was $20 at a vintage boutique.
The pillows were all 25 cents to a dollar.
The star light was $25 from a cool shop in Key West.
The blue toy box was out of someone trash.
Einstein was $10.
You can't see it here but the dresser was also a trash find from a Tarpon Springs yard. The guy even helped me load it."
---
Decorating with Paint
Decorating with paint is the one of the easiest budget decorating ideas when it comes to kid's rooms. You can completely change the overall "look and feel" of a bedroom by simply choosing a different color, painting with sponges, and an assortment of other products that can give walls a "unique spin". You can now even purchase paint that glows in the dark, paint that sparkles, and even magnetic paint!
Painting Furniture
Do you have some old furniture pieces? Perhaps you have discovered a unique bed, chair, desk, or table that needs some work yet it is selling at a great price. Either way, you can benefit from painting furniture!
There are so many inexpensive types of paints that can make any piece of furniture look new! Experiment with colors, textures, and more in order to create a "one of a kind" look to any item you wish to place in your kid's room!
---
---
Get Creative with Curtains
Many parents who elect to assist in decorating kid's rooms and decorating on a budget are starting to get creative with curtains. You can create new curtains from old curtains with ease! You can purchase patches that can be sewn on old curtains, small toys, and even small accessories such as beads, jewels, flowers, and/or shells to turn the ordinary curtain into extraordinary!
Decorating with Artwork
There are many different budget decorating ideas for displaying artwork in the room.
Many parents often find that frames for posters and other types of artwork are extremely expensive. Small frames can be created using simple small pieces of wood and then decorative items can be placed around the frame and then it can be laid on top of the artwork.
You can even elect to purchase small fluorescent lighting and unique colored bulbs to hang above artwork in order to create something truly unique.
---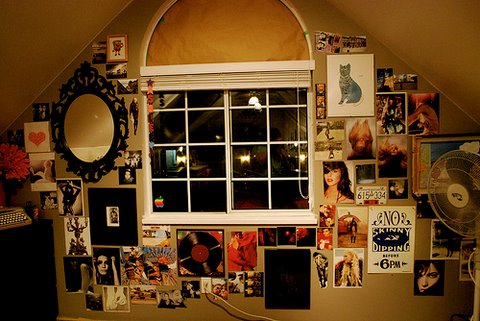 Budget Decorating Ideas
Courtesy of Ashley J. C.
---
Shelves
Believe it or not, if you are decorating on a budget for a kid, it is a wonderful idea to incorporate shelves into the room. Shelves can be used to place clothing, books, games, art supplies, and more!
You can create upright pieces that stand on the floor, those that hang from the wall and even units that can be hung in closets!
Artificial Flowers and Plants
If you want to create a unique design, try incorporating artificial flowers and plants into the kid's rooms that you choose to indulge in decorating on a budget in.
You may use them to wrap around curtain rods, place them on the walls, attach them to furniture, and many other areas. This is a wonderful way to create a unique design without having to invest a lot of money into the project.
---
Budget Decorating Ideas
Courtesy of Jessica Wilson: "The bed or, rather, the headboard was made by my brother. I've had it since 2000 and he built it from an old found door. The treatment is a mixture of the original layers and some added tweaking by him. He built the posts and added the metal scroll at the top. The rest of the "bed" is a simple platform made by Mr. a-go-go so that we can store things under the bed. We have a pretty small space and lots of stuff.
I like to remake the bed each month to reflect the season and the time...within that month I simply wash and remake the bed in the same collection...."
---
Cardboard Creations
Did you know that you can create cardboard creations and hang them in the kid's rooms that you are working on in order to create a unique look? You can use a stencil to cut out flower shapes, heart shapes, and more and then simply spray paint them with the color of your choice. Then, once dry, you can hang them on the walls in the bedroom!
Decorative Lighting
If you are decorating on a budget, you may be interested in incorporating decorative lighting into the kid's rooms that you are working on. You can take a standard lamp and then small toy figurines or small decorative figurines and glue them to the base of the lamp in order to create a unique "look and feel" that reflects the personality of your child.
---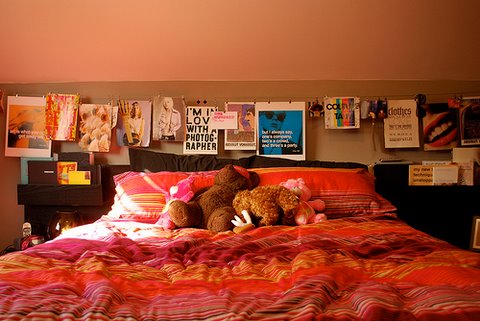 Budget Decorating Ideas
Courtesy of Ashley J. C.
---
More Budget Decorating Ideas
1. Use old compact discs or record albums to hang from the ceilings or on the walls to create a unique look.
2. Allow the child to paint and/or draw on one wall in order to incorporate their sense of personality into the room.
3. Incorporate a hanging clothesline into the room in order for your child to hang their artwork.
4. Create homemade pillows, blankets, and bean bag chairs from material located around the home.
5. Before spending money on a mattress, read mattress ratings to be sure you are getting a good deal.
---
---
These budget decorating ideas for kids rooms will prove to come in handy! They can allow you and your child to create a unique environment that reflects the unique style and personality of the child with ease!
Return from Budget Decorating Ideas to Cool Kids Rooms Home page