10 Nursery Decorating Ideas
Are you expecting?
Then, probably decorating a nursery is your priority!
---
In this helpful guide, I will provide you with some basic nursery decorating ideas for that adorable and very special baby.
If you are looking for nursery decorating ideas, you will quickly discover that there are several different ones that you can choose from. As an expectant parent, you have quite a bit of special considerations that should be made.
However, baby room ideas are often at the top of the list. You want your child to have their own special place when they come into the world, and you want to make it as beautiful and functional as possible.

Make The Best Use Of Your Investment
When planning for baby room ideas, it is often a good idea to consider colors, themes, and designs that will prove to keep your child happy as a baby, a toddler, and a school aged child.
Once you start purchasing supplies to decorate the nursery, you will find that they are rather expensive. You will want to decorate in such a matter that you make the best use of your investment.
Use Base Colors
Use base colors that are easy to match as far as paint and flooring and integrate a particular theme into the room.
For example, if you have a girl, you can use a base rose or pink color and integrate blankets, sheets, pictures, and curtains that are related to each stage of her growth to match her interests.
This is much more effective, overall, than sticking wallpaper of baby bunnies on the wall and having to fight to change the walls when she gets older and decides that those bunnies are for babies.
Keep The Room Functional
When researching nursery decorating ideas, it is important to remember to keep the room as functional as possible. This means that you should incorporate things that can assist you in properly caring for your child.
Diaper changing areas, hanging diaper and wipe organizers, bottle warmers, powder formula, bottled water with fluoride, and similar items of interest should be added to the room.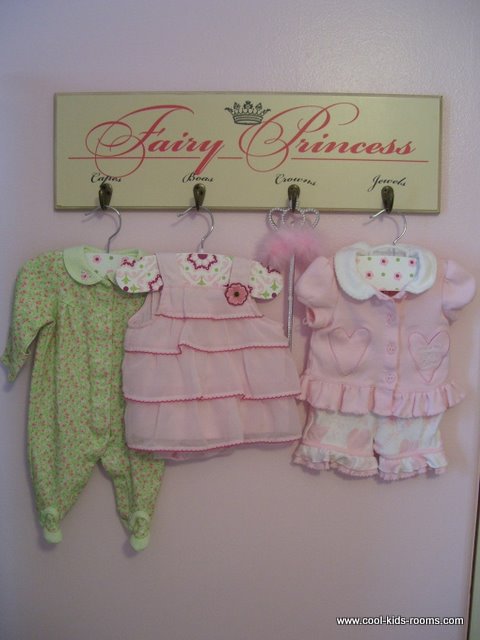 Avoid Carpet - Cleaning Hardwood Floors Is Much Easier
When caring for a baby, and as the baby grows, there will be instances of spills and other accidental messes.
It is best to avoid carpet if at all possible and just use throw rugs and other items. Cleaning hardwood floors have been found to be much easier than cleanning carpet.
Consider The Gender
When you are decorating a nursery, it is often a good idea to consider the gender of the baby that you are expecting.
For boys, you may consider themes that are related to public services, NASCAR, or even movie based themes like Star Wars.
If you are expecting a girl, themes related to cut animals, Barbie, or movie related themes like Care Bears may be appropriate.
Courtesy of HomeStyleCafe.ru

Baby Nursery Themes - Use Your Imagination
If you want to go for a theme that can work for either gender, there are many that you can choose from. Baby nursery themes that are related to jungles, oceans, the sky, and unique patterns and designs may work appropriately.

Think About Yourself
When tossing around nursery decorating ideas, remember that you will spend a lot of time in this room - especially at night when the baby wakes up for a feeding.
You should ensure to place furniture and other items of interest in the room that can assist in ensuring your comfort as well. Rockers, a bookshelf, and maybe even a small radio may be appropriate items to include in the room.

Courtesy of HomeStyleCafe.ru

Take Safety Precautions
One day, the baby that you are preparing for will grow into a crawling and walking machine of curiosity. This definitely has to be considered when playing around with baby room ideas.
Be certain to take certain safety precautions to ensure that the child experiences no harm when they reach these milestones in their lives.
Purchase outlet covers, keep strings from blinds tied up or cut completely, place locks on windows, and avoid placing objects such as standing lamps in the room that the child may pull over on them.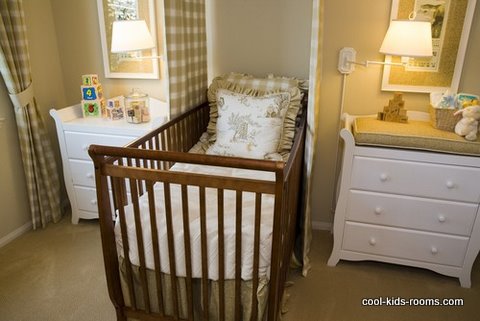 Involve Your Family
If you are looking to create a unique theme that includes the use of your family, request that each family member keep a certain theme, and/or color in mind and ask them to make something special to place in the room.
This can be a handmade blanket, a picture frame with a special family portrait, a homemade mobile, or any other item of interest. You will be amazed at how much the family enjoys contributing to this special room.
Watch For Sales
Last, but not least, remember to be as economical as possible. In today's world, financial woes are everywhere. You do not always need to purchase everything brand new.
Cribs, car seats, playpens, and similar items should be purchased new for safety reasons, but other items such as pictures, art, furniture, dressers, blankets, crib bedding - they can all be purchased on sale or even used.
Take advantage of all the savings that you can get as you will need the money once the baby arrives.
Courtesy of Bella Seven

As you can see, there are many nursery decorating ideas that you can play around with as an expectant parent. Just remember, baby room ideas should include comfort, convenience, and functionality.
If you have these three items of interest covered, then you are well on your way to successful decorating!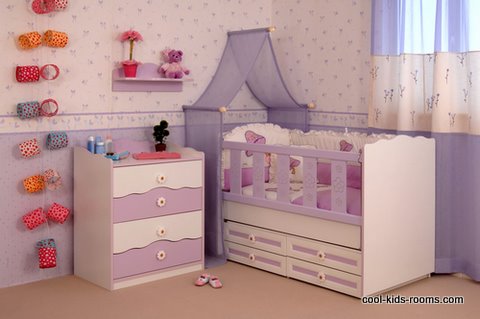 Nursery Decorating Ideas Related Articles