SIBLINGS
SHARING BEDROOM
Creative kids rooms decorating ideas.
Siblings sharing bedroom space can be the trigger for a war zone, and the word "mine" is usually the shot that begins the battle. How do you neutralize the conflict in kids' rooms? Decorating ideas that speak to their individual personality is a beginning.
---
When siblings have to share their personal space they're stubbornly territorial. Each one has his own opinion of what they want. Giving them each a voice in the decor may enable a temporary cease-fire, but a lot will depend upon their ages.
---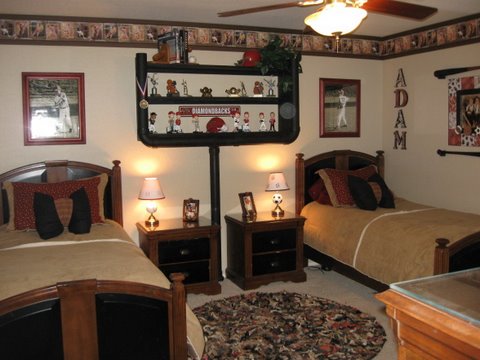 Siblings Sharing Bedroom
Courtesy of Kari Ellenberger
"This room was a challenge. I have two boys 11 months apart who love sports. I wanted the space to feel open but have adequate storage. I also wanted the room to transition into their teenage years but be playful enough for now - they are 8 & 9. I am happy with the way it turned out"
---
Siblings Sharing Bedroom Space
– The Younger Years -
There's not much decorating drama between pre-school and kinder-aged siblings.
Sharing bedroom space is not likely to cause much friction when it comes to deciding the décor. All kids love bright colors and happy surroundings, so one color scheme for the entire bedroom will usually work; however it's important for them to develop a sense of identity.
---
Siblings Sharing Bedroom
Courtesy of HomeStyleCafe.ru
---
Give them each their own bed, use different themes or colors for their bedding, and provide individual storage options for keeping their toys separate.
Toy boxes, dressers and shelves, painted different colors and tagged with their names, will help them learn their colors, discover how to recognize and spell their name, and acquire responsibility skills.
---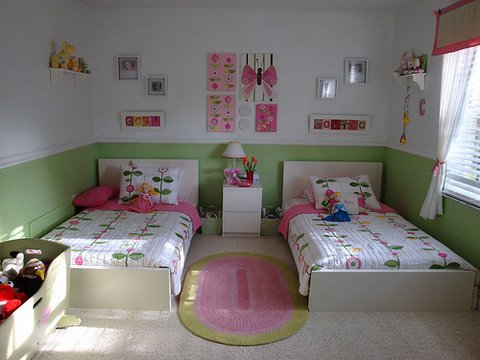 Siblings Sharing Bedroom
Courtesy of Andrea Swenson
---
Siblings Sharing Bedroom Space
– Tweens and Teens --
For older kids, it's all about manipulating the space. Usually, secondary bedrooms are not large, and the real challenge is the furniture.
---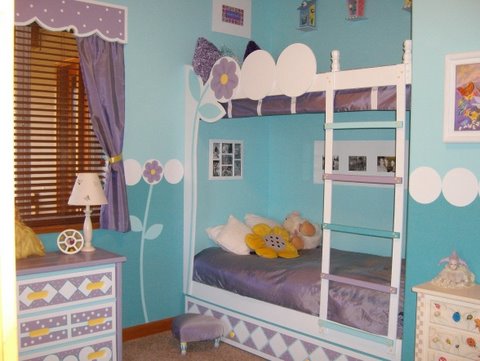 Siblings Sharing Bedroom
Courtesy of Tammy Robillard
---
For small spaces, bunk beds are the first white flag of compromise; they allow for more room to divvy up the space into territories.
Today's bunk beds are functionally smart pieces of furniture. For small spaces that are short on square footage, bunk beds with built-in-storage are a good strategy.
Beds that have drawers along the underneath side of the lower bunk, and tall drawer storage at the foot of the upper bunk, frees up valuable floor space that can either be furnished with community furniture and accessories, or further divided into personal areas.
If you're shopping for furniture for small spaces, look for furniture that can serve dual purposes.
---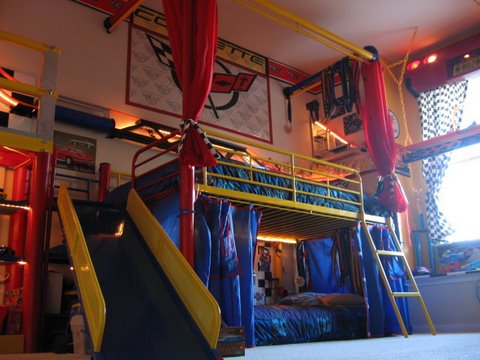 Siblings Sharing Bedroom
Courtesy of Brian Fish
---
When not using bunk beds and more than one dresser or chest of drawers isn't an option, paint the drawers different colors or different shades of the base coat to assign individual drawer space. This works well in a room that has a bold, colorful contemporary design.
Room dividers can make a space feel too small and confined.
Define boundaries by placing two desks back to back. Frame a dual-sided picture or a cork board in a large frame; attaché hooks to the top of the frame and suspend it from the ceiling on chains so that it hangs directly between the desks. For extra stability, secure the picture to the back of one desk, using chain and hooks attached to the bottom of the frame.
By not closing in the area all the way to the ceiling, the ambiance of the room remains open, giving it the illusion of more space.
---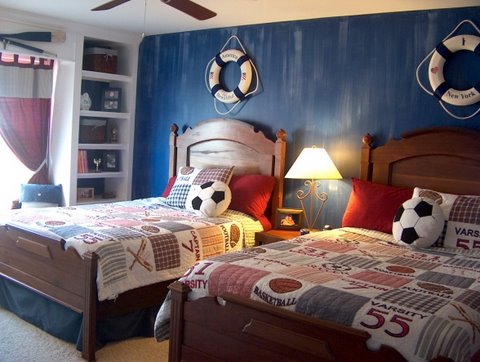 Courtesy of Karen Spiritoso from Home Designs by Karen
---
It's not all about the décor in a tween/teen room. They want privacy. They like to host sleepovers and have friends visit.
To avoid territory wars, set up a private-time room schedule, and designate a certain amount of time each week when each child can have the bedroom to himself.
Keep the floor space as open as possible to accommodate an inflatable air mattress and big floor pillows for their guests to sit on.
---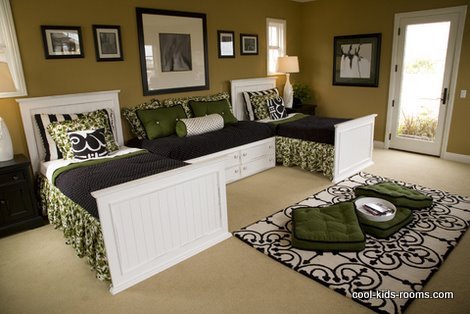 ---
Closet Ideas for Shared Bedrooms
With kids, there are always too many clothes, too much stuff, and not enough space in the closet.
Ideas for increasing the usable space within the confines of what is usually a very small area have to be creative, but practical.
Organization is the biggest weapon of defense against those arguments that begin with "Mom! Her stuff is all over my…"
---
Closet Ideas
Courtesy of Kari Ellenberger
---
Wide closets that are short on depth can be easily modified: remove the rod; section the closet in half with a floor-to-ceiling wooden divider down the middle; and install a do-it-yourself closet system that provides adaptable wire shelving and bottom crossbars for hang-up clothes.
As long as they keep their things on their own side, the battle is won!
---
Closet Ideas
Courtesy of Andrea Swenson
---
Keep the peace in those kids' rooms. Decorating ideas that help kids grow into their own identity, employs some of their individual decorating ideas, and has a fair distribution of personal space will go a long way in holding those battles over bedroom territory at bay.
---
Courtesy of Raymond Rochon
---
You Might Also Be Interested In...
Decorating Small Bedrooms for Siblings
Cool Kids Rooms Store
---
Return from Siblings Sharing Bedroom to Cool Kids Rooms Home page