DECORATING SMALL ROOMS
How to make small spaces look larger.
Decorating small rooms is a challenge, but if you follow a few basic design tips you can make small spaces appear much larger
---
Decide On a Color Scheme
A monochromatic color palette (tone-on-tone) is the best choice for decorating small rooms. Bright, deep colors will bring walls together and overpower small spaces, but neutrals and pastels will have the opposite effect and tend to move the walls outward creating the illusion of more space.
Don't ignore the ceiling; keep it two to three shades lighter than the walls but in the same color family. This will create a continuation of the space.
---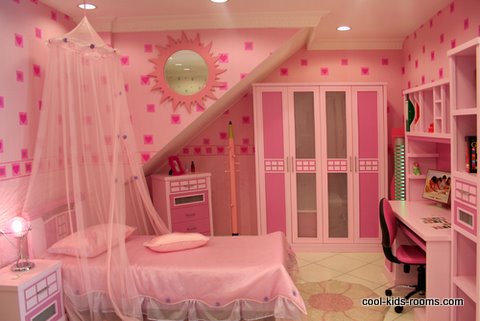 ---
Bedroom colors should be soft and soothing; keep bold colors to a minimum in order to create an aura of tranquility. Bold is fine for bedroom colors, but only in splashes around the room. For decorating small rooms, don't use bright or bold colors as the main color for bedding or draperies.
Floor Decor
Floor décor is the first element of design in your room. When dealing with small spaces, the more you see of the floor, the larger it will feel.
Choose rugs and carpets in shades that are slightly darker than the walls. If you have dark furniture and light floors, you could end up with a top-heavy, unbalanced room.
---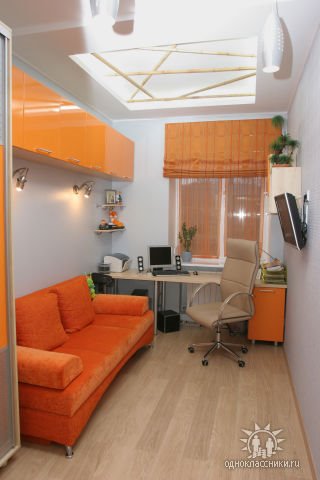 Courtesy of Dasha Shockotcko
---
Furniture for Small Spaces
When selecting furniture, opt for pieces that are moderate in scale and have an open element of design. Furniture for small spaces should have exposed legs and if they have arms, they should be open, not upholstered. Beds should also be open-no footboards or sleigh beds.>
Larger pieces should anchor the back of the room opposite the entry. Don't put large, bulky pieces near the entryway or in the walkways. Keep as much of the floor exposed as you can. Glass top tables and shelving, and furniture with glass doors are excellent for small spaces because of their transparency.
---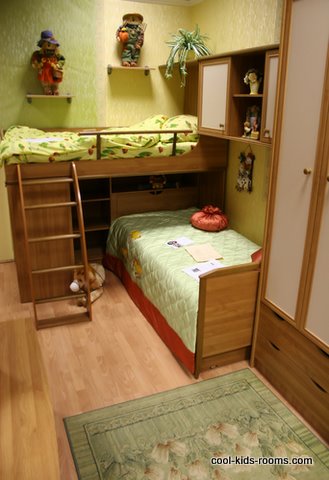 ---
If you have a heavy piece of furniture along one wall, then you must anchor the other side of the room with a matching scale; however, that doesn't mean you have to add a bulky piece to the opposite side. Balance the room with accessories that are scaled proportionately to the furniture.
Lighting Your Space
When you are decorating small rooms you have to start with assessing the natural light. If the windows in the room are all on one wall, the light source will be coming from only one direction so you'll need to bounce the light around the room for even distribution.
A great way to do this is with mirrors. Positioning mirrors opposite your light source is a trick designers use to manipulate the light in a room.
Consider adding track or recessed lighting. Direct spots of light where it's needed to lighten dark areas, accentuate accessories, and illuminate the room's focal point. Use uplights in corners to create shadows and drama.
---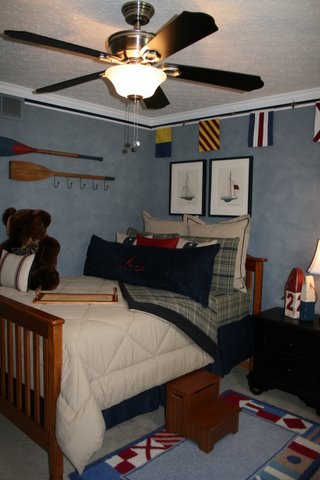 Courtesy of Jodie Murphy: "I wanted to create a transitional space for my little man, one he could grow with. I wanted a sailboat theme however I didn't want to over do it. I wanted his room to have modern yet traditional feel. I purchased the nautical wall flags from landofnod.com, I think I paid 29.99 for the whole set. The flags are hung by tiny nails; they were placed through the rope. I use the oar for hanging my son's baseball caps."
---
Accessories
Once your room has been painted and the furniture is placed, it's time to accessorize.
This is where you can put the bold dashes of color into the room. Choose a couple of complimentary colors for your accessory theme and distribute them evenly around the room.
Large pictures or artwork is better in small spaces than collections of small pictures. Smaller accessories tend to make a room feel cluttered. Choose a few good proportionately scaled pieces and keep the artwork simple.
When accessorizing and decorating small rooms, stay within your room's theme. If your furniture is contemporary chrome and glass, don't use pictures with heavy gilded frames. Keep the frames close to the wall color and let the picture inside pick up the coordinating colors.
Tips for Kid's Rooms
Children love color. It's okay to use bright colors, but use them in the accessories, not on the walls. Pastel versions of the popular purples and blues will contrast beautifully with the bright colors.
---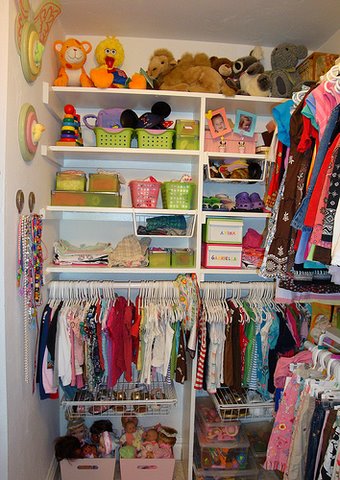 Courtesy of Andrea Swenson
---
Don't line the walls with shelving. Toys and books sitting on shelves will clutter the room and accentuate the smallness of the space. Instead, create a storage and display area in the closet by adding colorful shelves that are accessible to the child. The doors can be closed when not being used.
You can't do anything about increasing your room's size unless you do a major renovation; however,if you decorating small rooms the right way, you can give yourself the illusion of more space and have a room that feels much bigger. And the good news is - you can do it yourself!
You Might Also Be Interested In...
Decorating Small Bedrooms for Siblings
Return from Decorating Small Rooms to Cool Kids Rooms Home page