Cool Kids Rooms Blog
---
Welcome at What's New at
cool-kids-rooms.com
• This is the place where I will tell you know whenever new web pages will appear to keep up with all new fabulous ideas for decorating kid's rooms.
• This is the place to make time sensitive announcements about terrific new products or sales related to kids room décor.
• This is the place to learn about great new sites I found.
---
Subscribe to my Cool Kids Rooms updates and news
Enjoy... this is fun!
Lolita
Pirate Theme Bedroom – Pirate Bedding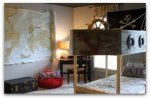 Create a pirate theme bedroom that is original and fun. Add unique details by including pirate bedding, adding a pirate stencil on the wall and even building a mast and pirate flag coming off the bed.