DECORATING BATHROOMS FOR
SCHOOL AGE KIDS
Some nifty ideas for decorating bathrooms
and transforming them into really
cool bathrooms.
Decorating bathrooms for kids after they've left the toddler years behind can be loads of fun.




---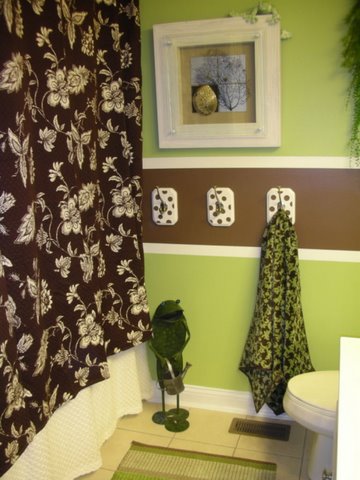 Courtesy of Keren Spiritoso from Home Designs By Karen
---
Before you let your inner child go wild, keep in mind that décor for school-age kids should be a little more grown-up – not as whimsical as décor for toddlers, but not so sophisticated that it loses its sense of playfulness. Creating dream bathrooms that transition from toddler years to school-age years will take a little more ingenuity and a bit more detail in the theme.
Cool bathrooms for younger kids are bathrooms that are personalized. Decorate the entire room in bathroom themes that reflect individual personality and interests then tag their names on accessories; once kids learn to read, they love to see their name identifying their things; it balances a sense of belonging with their growing need for autonomy.
Spend a few weeks analyzing your kids before embarking upon projects to create their dream bathrooms. Notice which television shows they watch regularly; look at the toys they play with most often; observe role-playing when they're with other children. If you follow their lead, decorating bathrooms that sizzle and snap with their personality will be a breeze.
---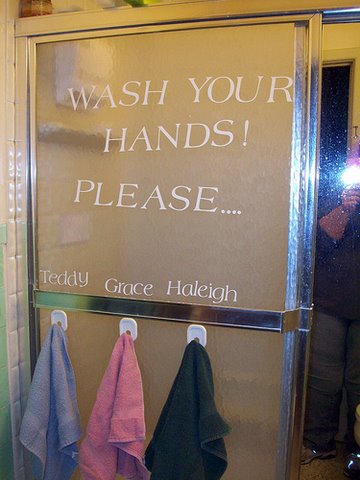 Courtesy of Merry Perry
---
Ideas for Bathroom Themes
Underwater Mystery
Beneath the sea lay mysterious creatures in all shapes, sizes and colors. Aquatic themes turn ordinary bathrooms into cool bathrooms where kids can explore the deep blue sea and expand their imagination – all while taking care of bathroom business. Decorating bathrooms with oceanic backdrops is popular with the younger school-age kids – the design choices for aquatic bathroom themes are numerous.
Pirates, Ships and Lighthouses
Transform a bathtub into a grand ship by using ceramic paint to create a ship's bough, and if you really want to be grand with the décor, replace a section of tile surrounding the tub with glass blocks; paint the wall behind the glass blocks deep blue with splashes of white and light gray to resemble waves. The result will be a three-dimensional porthole that will appear to look out over the ocean.
If space isn't a concern, paint a tall free-standing cabinet to look like a lighthouse. Twinkling holiday lights can be used to facilitate the lighthouse beacon.
---
Tiki Bathroom
Courtesy of BecTre
---
Decorating for "Tweens"
Island Themes
For kids who are a past the grade-school age yet not quite teenagers, Island bathroom themes are a little more sophisticated but still fun. It takes more work to transform an entire room into an island getaway, but the result will be a dramatic bathroom that will be stunning, playful and simply cool!
Paint the walls in variegated shades of tan, off-white and cream; add texturizer to the paint to make it look like sand. Paint palm trees on the wall, dingy boats, beach balls, volleyball nets – anything that you might find on the beach – to complete a beach scene. If you don't have the artist's touch, an internet search will turn up a number of artist supply sites that sell stencils for decorating bathrooms.
---
Tiki Bathroom
Courtesy of BecTre
---
Every island has a Tiki-Hut and you can make one out of the vanity area.
Build a light-weight frame out of one-by-two inch strips of wood and attach to the wall above the bathroom mirror. Using hot glue or staples, attach rows of raffia or bundled straw to the frame, overlapping each row to create a thatched roof.
Finish out the room design by adding textured wallpaper (grasscloth) on the wall around the vanity to compliment the thatched roof. If you prefer paint instead of wallpaper, paint the wall to look like bamboo.
Minimal Décor - Maximum Cool
Not everyone has the time, budget or the expertise to undergo a major redecoration, but that doesn't mean your kids can't have their dream bathrooms.
Use paint and accessories to liven up the space. Let them choose a paint color for the walls, then download pictures from the internet of their favorite book characters, TV or movie characters, or posters of their favorite musical artists; frame them and hang them on the wall. Accessorize with coordinating memorabilia to generate the theme.
---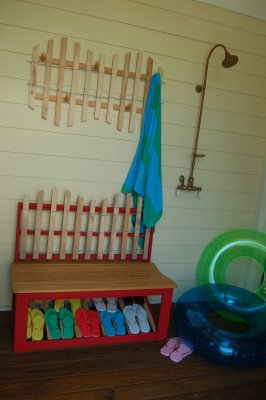 Courtesy of Leisa Tobler
---
The main thing to remember when creating those really cool bathrooms is to let your kids help you decorate their space; if you do, they'll likely want to spend more time bathing – and that's a really good thing!
Return from Decorating Bathrooms for School Age Kids to
Kids Rooms Home Page