FURNITURE FOR SMALL SPACES
Great small space solutions.
---
Need furniture for small spaces? Let's face it: Many of us have rooms that are just too small for regular furniture. But just because a room is small doesn't mean it has to lack in design and appeal.
Here is some furniture for small spaces that will inspire you. The designs are creative and clever, and may offer the perfect small space solutions for your house.
Sleep + Study Loft from PBteen
It doesn't get any more functional (and cute) then this all-inclusive bed/bookcase/corkboard/study desk combo.
If you're looking for furniture for small spaces, this is it. Kids can keep their living spaces neat and tidy with clever small space solutions like this.
---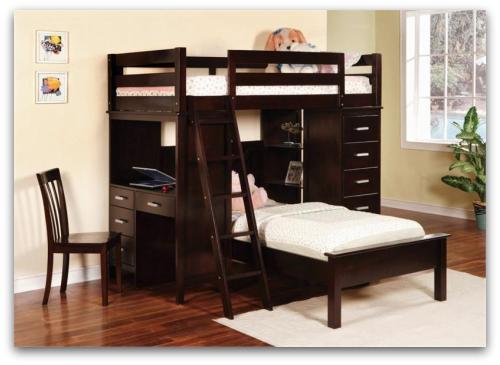 Bunk Bed with Workstation Desk from My New Furniture Store
Classic and elegant, this bunk bed and workstation desk is clean and simple...and very efficient. Children can work, sleep and invite a friend over to stay with this combo.
Because of it's classic design, it will match almost any decor. When you're thinking about furniture for small spaces, don't skimp on quality!
---
Twin Convertible Loft Bed from My New Furniture Store
Your child can host a tea party, study for tomorrow's test or invite a friend for a sleepover with this clever convertible bed.
When it comes to small space solutions, this one is classy and suitable for boys or girls. Children love to sit in their own space and use their own table to draw, study or just relax.
---
Platform Bed Super Set from PBteen
Children, especially teens, need a lot of room for clothes, books and gadgets. This platform bed is a winner in the furniture for small spaces category.
The design is classic and simple while still very functional. Children can store a myriad of clothes and objects in the drawers, cabinets and shelves, which also act as a partition to separate the bed from the rest of the room to your child privacy.
---
Stuff-Your-Stuff Classic Bed System (Bed, Towers, Shelves + Desk)
from PBteen
Everything your child or teenager needs is right here in this bed system. Store books, clothes, picture frames and trinkets on the shelves and cubbies, then work at the desk to study. Clean and creative, this is one of the small space solutions that really works!
---
Hampton Vanity Tower & Super Set from PBteen
---
Don't have a closet? Don't need one! This vanity tower is elegant and fun.
Children can keep their clothes organized in the drawers and shelves then shut the doors to make the room look tidy.
They can use the desk to get ready for school in the morning and to study at night.
The large mirrors also make the room look bigger while, of course, helping preteens in their never-ending search of what to wear.
---
Display-It Storage Mirror from PBteen
How clever! Who doesn't have a corner where this would be ideal? Turn the Display-It Storage Mirror to look in the mirror, hang up coats and bags or put books and toys away. This is a great piece of furniture for small spaces.
---
If you think this is just a desk shaped like a cube...
Rock & Roll Cube Desk Powell from Totally Furniture
Look again! The cube opens up to include a chair and storage area. Not only is it functional, kids will love showing their friends this interesting piece of furniture.
---
Return from Furniture for Small Spaces
to Cool Kids Rooms Home page

Return from Furniture for Small Spaces
to Decorating Small Rooms