Nautical Decorating Ideas for the
Sea-Lover Child
Need great nautical decorating ideas? Make the most boring rooms exciting with nautical wall decor, nautical bedding and nautical furniture!
---
Get inspired with these nautical decorating ideas. Spruce up your child's room (or even your own!) with these fun, creative looks.
---
---
Consider turning the curtains into sails, like the designer did here, or hang netting on the wall that can double as a stuffed-animal holder! Hang flotation devices as nautical wall decor and add model ships as decorations. Most of these great items can be found at the bottom of this page!
---
Sourse www.lighthouseman.com
---
If you're extra crafty and good with a skill-saw, turn the room into a nautical adventure. The designer of this room took nautical decorating ideas to an extreme and created a boat bed, decorated the walls with nautical-inspired wallpaper and painted the trim blue to match.
---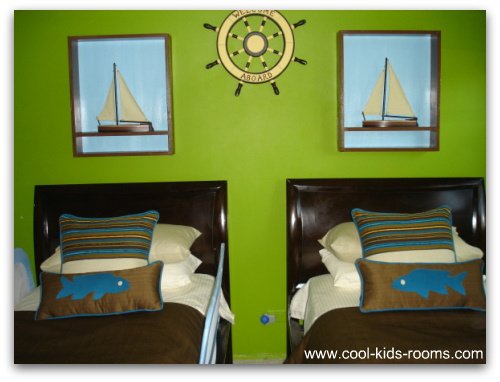 Courtesy of Berque Rosario
---
What's more fun than fish pillows and nautical wall decor like sailboat art? Any kid would love a room filled with these nautical decorating ideas.
Splash blue or green paint on the walls, stencil on a helm (boat steering wheel) and finish the room with nautical bedding.
Best of all: Find most of these items at the bottom of this very page!
---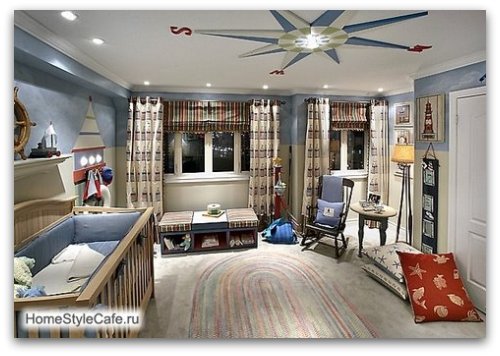 ---
Create a room that's light and open yet still feels as if you're underwater! Surround the ceiling light with a compass stencil and choose curtains and throw pillows that feature nautical designs. Use a lot of white accents to keep the room fresh, like this one.
---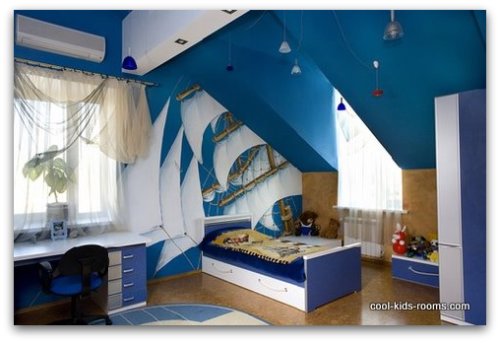 ---
Some lofts already have a shape similar to that of a boat; turn your loft into a bedroom filled with nautical decorating ideas like a ship stenciled to the wall and a nautical-themed bed. Choose nautical wall decor to match.
---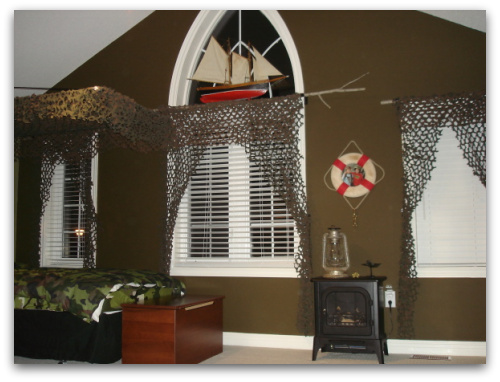 Courtesy of Tim Parsons
---
What better way to decorate windows for a nautical room than to cover them with netting? Add flotation devices as decorative wall hangings and finish off with a nautical-themed bed.
---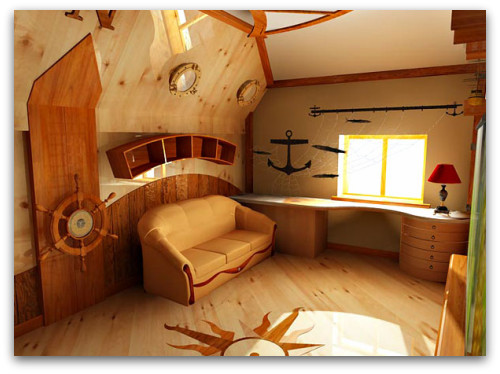 Sourse www.rem-dom.info
---
Again, use odd-shaped ceilings in lofts to your advantage; turn them into what looks like the inside of a ship with a few carpentry skills.
Add wood to the walls and ceiling, like this room, then add furniture to match. Use nautical wall decor like anchors and fish.
---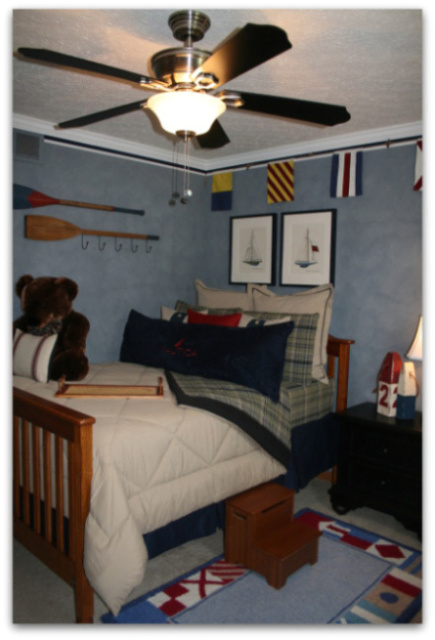 Courtesy of Jodie Murphy: "I wanted to create a transitional space for my little man, one he could grow with. I wanted a sailboat theme however I didn't want to over do it. I wanted his room to have modern yet traditional feel. I purchased the nautical wall flags from landofnod.com, I think I paid 29.99 for the whole set. The flags are hung by tiny nails; they were placed through the rope. I use the oar for hanging my son's baseball caps."
---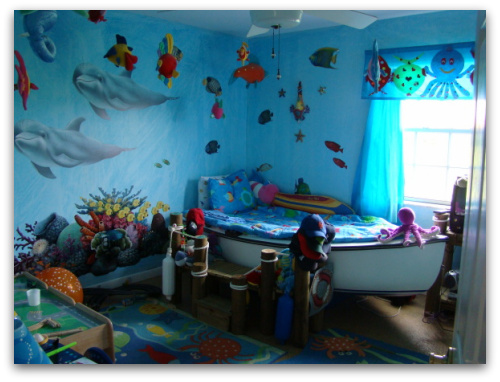 Courtesy of Diane Snider
---
Get really creative and create an underwater adventure for your child. Paint the walls blue and add fish stencils to create nautical wall decor. Add fish carpet and bedding to finish the look.
---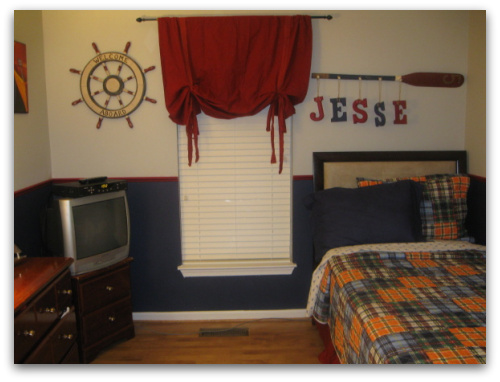 Courtesy of Beyunka Scates
---
Finally, keep the look clean and simple to suit your tastes. Tie the curtain to create the look of a sail and add a helm and oar as wall decor.
Here are some products that will help you complete your nautical room design:
Return Cool Kids Rooms Home Page

Return from Nautical Decorating Ideas to
Bedroom Themes