PAINTING WOOD FURNITURE:
A step-by-step guide on how to paint furniture .
---
When painting wood furniture, it's best to follow a few simple tips so the paint lasts longer and looks better. Instead of buying new furniture to match the decor, learn how to paint furniture that you already have to save money. Paint tables, chairs, nightstands and bed frames to create a very cool kid's room!
---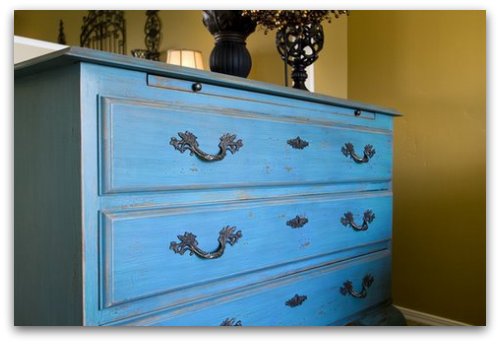 ---
Before learning how to paint furniture, decide what you want the finished room to look like. First, think of a theme. Decide what the color scheme is. Select decorative pillows, wall hangings, window dressings and other items to complete the room once you finish all the other aspects. Then, start painting!
Here are some tips on painting wood furniture:
Step 1:
Use an orbital sander to sand and smooth the wood. Remove all handles, knobs and hooks first; don't try to sand around them or you won't do a good job. You'll also want these off for painting. Start with 80- or 100-grit sandpaper to remove the existing paint and stain then switch to 150 or higher to smooth. Sand by hand whenever necessary.
Step 2:
If you're planning on painting wood furniture correctly, you have to remove all the dust and dirt left behind by the sander. Use a damp cloth to wipe it down then let it dry.
Step 3:
Choose a well-ventilated area to prime your furniture, and even consider wearing a mask. Prime the furniture in very thin coats, sanding between coats if necessary (when the primer dries, run your hand over the surface. If it isn't smooth, sand it again before applying another coat of primer). Apply at least three coats of primer.
Step 4:
When the primer dries, you're ready to paint. Choose a paint that matches the rest of your decor and that is made for indoor or outdoor wood. Mix the paint with a paint stick and brush it on the furniture with a brand new brush so it goes on smooth. Paint a number of thin coats, waiting for them to dry before applying another.
Step 5:
Wait for the paint to dry then reattach the knobs and hooks you removed from the furniture previously. Enjoy the furniture!
It's not hard to learn to paint furniture, and it's not hard to do. However, here's a tip: Paint all the furniture together on the same day to save time. Have your kids help; they can sand by hand and paint if they are old enough, or they can just be there to cheer you on!
Return from Painting Wood Furniture to
Cool Kids Rooms Home Page

Return from Painting Wood Furniture to
How To Guides