KIDS WITH PHYSICAL DISABILITIES
Bedroom decor ideas.
---
Kids with physical disabilities have the same rights as other children regarding self expression and pride in their living quarters. Accommodations in the bedroom need to be carefully considered for these special needs children. Starting with the basics, here are some suggestions:
---
---
Make sure that you place shelves, hooks, light switches, closet rods, etc. within easy reach of your child.
Maneuvering space is needed for a child with braces, crutches, walker or wheel chair.
Use motion sensor lighting for a child who has trouble handling light switches. These are also great for inside closets.
Chairs, lamps and nightstands need to be placed so that the physically challenged child can get in and out of bed without interference.

---

---

Pull chains or touch pad lamps are easier than the standard ones.

Nightlights to make it easier if they have to get up during the night.

Drawers and doors need to be easy to open.

Desks and tables need to be high enough and deep enough to accommodate a wheelchair.

Nonslip flooring is essential, but don't use carpeting that a wheelchair cannot be easily maneuvered on.
A telephone with a lighted, large button keypad.
There should be a clear path to the bathroom.
---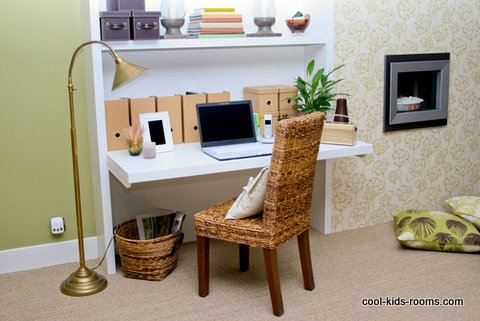 ---
If door knobs are a problem, try door levers for your child. And if that is still difficult, a swinging door would be a good solution for you. Another option would be a pocket door that can be slid into the wall.
If the bedroom is large enough, and you want to add a play area, it is good to consult with your doctor and therapist for the safest and most beneficial toys for special needs children.
Important details to remember if your physically challenged child is in a wheelchair:
You need a 36" isle between furniture to accommodate a wheelchair.
Doorways need to be 32" wide for the chair or a walker. Consider the space taken up by the open door when you measure.
It is important to choose the right bed for kids with physical disabilities.
---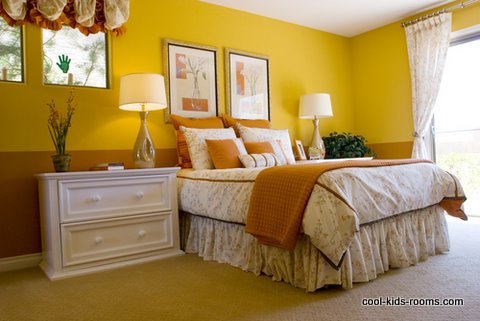 ---
When choosing a bed, add a handrail if your child has problems getting in and out, or falling out of bed. The bed should not be too high off the ground. When he is seated on the bed, his feet should be able to reach the floor.
Custom designed special needs beds can give the physically challenged child a themed and decorated room…just like their friends. What fun to have a race car bed, a castle bed or even a treehouse bed! The theme can easily be carried out with café curtains, bed linens, or perhaps a border hung around the window, closet door, or at a chair rail height.
Make sure that the bed is placed so that your child can enjoy looking out the window, watching TV, or viewing the things he cherishes in his room.
Don't lose sight of the fact that this is a bedroom, not a hospital room.
---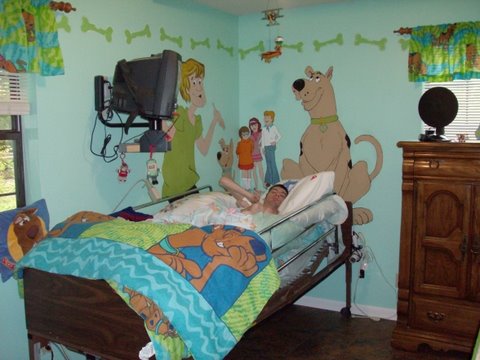 Courtesy of Janet Elliott: "This mural was done by me in my multihandicapped son's room. I painted the Scooby and friends on my son's room (he's nearly 31) since that is his favorite cartoon show. I found the bedspread and valances on line (used) and painted the room a cheerful color. It's a small room but so personal. Children really love his room...."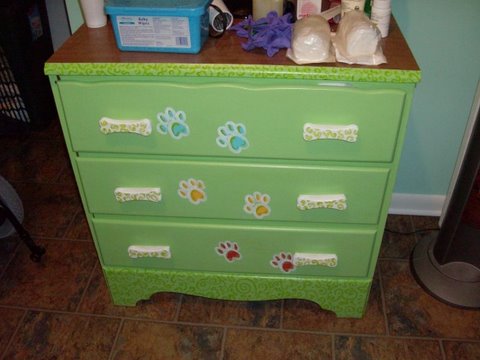 Courtesy of Janet Elliott: "I hand painted this chest to go with his Scooby theme. My husband cut out the bone handles."
---
Kids with physical disabilities spend more than average time in their rooms…they should enjoy them, be proud of them, and be made to feel more "normal" when they are in them.
Return From Kids With Physical Disabilities to Home

Return From Kids With Physical Disabilities page to Special Needs page