ROOM DECOR FOR A
VISUALLY IMPAIRED CHILD
Decorating a bedroom for a visually impaired child is not really all that different from doing so for a normally sighted child.
Blind or visually impaired children are living in a world without images or, at best, unclear ones. But in all other respects they are simply kids.
---
---
When a child doesn't have his sight, he has to develop his secondary senses to give him all the necessary information regarding his environment.
If your child was born blind his learning will be a bit more difficult than if he already knew the shapes and sights around him. Either way, with good, patient teaching, and the help of those around him, his secondary senses will develop sufficiently to allow him to live independently in a seeing world.
---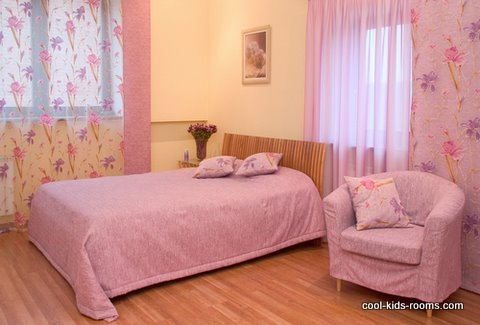 ---
When decorating the living quarters for your child, you must consider safety. Clutter, throw rugs, and moving furniture around are dangerous for the non-seeing child.
The area around his bed must be kept clear, so that he can get up, use the bathroom or get a drink without stumbling. The route to the bathroom should be as straight as possible and kept clear at all times.
Non-slip flooring is important, and if carpeting is used it shouldn't be highly textured.
Place hooks at a reachable height for easy hanging of robes, jackets, etc. Closet rods should be lowered for easier access. Shoe racks will help him find his tennis without having to come to you for aid. Anything you can do to help him maintain independence is a good thing.
---
---
If your child's vision is impaired, but he still sees light and fuzzy objects, there are several ways to help him move around his home safely. Print large signs in bright colors (pictures if he is a toddler and words if he is older). Alphabet stencils will help you to accomplish this task.
Have several easily seen magnifying glasses for him to use. Always leave them in the same place for him to find. Once your child has learned Braille, it can be used to label objects, boxes, toys, etc.
Adjust your room lighting so that there is no glare to hinder the child who can detect light. This can be done with sheer curtains, solar screens, or window blinds.
Remember that the visually impaired child spend more time in his room than do other children. Toys for blind children schould be easy accessable.They should be varied in detail, size, texture and scent. Whenever possible toys should have a distinct sound as well. Always replace them in the same spot. This will encourage him to develop those much needed secondary senses.
Early on, he should become familiar with the bathrooms and kitchen in your home. Use latches on cabinets that contain unsafe items, but have some that he can open, empty and play with. Kitchen towels, paper napkins, wooden spoons, metal measuring cups, pots and pans and plastic bowls all provide opportunities for recognition, identification, and sound effects.
Never forget that your visually impaired child is normal in all other respects. Don't overprotect him.
Visit WonderBaby.org to find more tactile decorating ideas.
---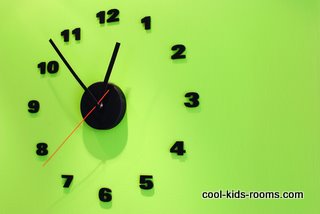 ---
Return from Room Décor for a Visually Impaired Child to
Cool Kids Rooms Home page
Return from Room Décor for a Visually Impaired Child to
Special Needs Home page