Fire Station!!
by Heather
(Pasadena Ca.)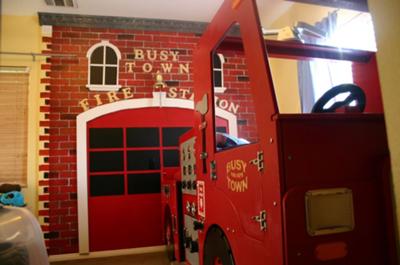 Busy Town Firestation!!
Hello, this was a room I designed from a picture I found with a similar room, except I did faux bricks, and boy am I tired.

I taught myself how to use a scroll saw, so yes the frame of the garage, and windows are out of wood I cut. I shopped for several crown moldings to create the roof top of the building.

The black windows of the building and garage are painted with chalk board so my son can draw. The bed was a used bed I found, completely stripped, repainted, and then took pictures of a real fire truck to hand paint the decals, it was fun.

This was a Christmas present for my 3.5 year old son, who did help me paint parts of the wall, but he wasn't expecting the bed, which was a challenge because we had to hide the pieces around our home.

Our garage is very dated, and there is no workshop room, so every day I would drag out a piece from behind the couch, piano, or my closet, and even almost got caught when someone got up early from his nap...

It was fun and total worth his priceless reaction Christmas Day!!