GOTHIC BEDROOMS
How to incorporate gothic themes into
teen room designs.
Gothic bedrooms have a certain type of sensuality that is dark, yet mystifying in a gratifying manner to teenagers.
---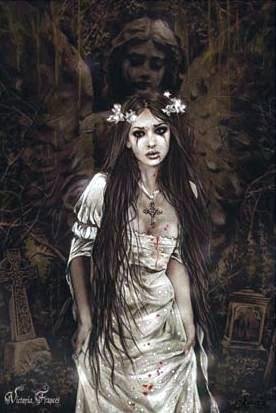 When it comes to teen room designs, the gothic themes are becoming more and more popular.
There is also a certain type of historical allure that seems to attract the unique personalities and levels of creativity in the teenager.
Many parents are a bit turned off by gothic themes due to the fact that they feel as if they are often associated with dark clothing, secretiveness, and personality restrictions in their child, but this could not be farther from the truth.
Today's gothic bedrooms have a new sense of style and a unique flair of personal expression like none other!
Choosing the Right Colors
If you are focusing on gothic teen room designs, it is important to understand that choosing the right colors is essential to the development of the room's design.
When it comes to gothic rooms, the most popular colors are black, red, and gray. Many gothic themes may comfortably incorporate the colors of dark blue and dark purples as well.
Many gothic teen bedroom designs incorporate the use of black paint in order to greatly enhance the overall design. If you elect to do this, it is important to be careful not to subject the windows, furniture, and accessories to droplets of the paint. If you want to decorate without the fear of spills, black colored wallpaper may be used.
Consider Bright Lighting
When creating gothic teen bedroom designs, it is important to understand that when dark colors are used, bright lighting should be used.
While teenagers may enjoy the look and feel of dark gothic rooms, it is not the most productive of themes. It is important to understand that your child will be using their room to study, read, use the computer, dress, and other tasks.
They should have bright, ample lighting throughout the room. One creative way to make the room bright without making the light seem intrusive is to place a standing lamp that has adjustable lights in each corner of the bedroom.
If you truly want to enhance gothic decor, perhaps dangle some of the fake spider webs that are sold around Halloween from each of these lights - just be sure the webbing does not come near the light bulbs!
Choosing Accessories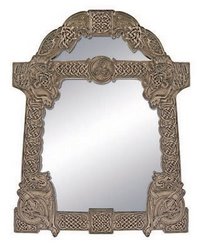 The next important aspect when it comes to gothic teen room designs are accessories.
Now when creating gothic bedrooms, you may choose from a fantasy type theme or you may choose from a medieval type theme. If you really want to get creative, you may create a unique collaboration of both themes.
It is best to allow your teenager to put in their input on this. Depending on your base theme for gothic bedrooms, you may choose from many different types of bedroom accessories.
Mirrors that reflect dragons, fairies, and gargoyles are exceptionally popular.
Integrating antique metal candle holders with black and red candles, plastic skulls, and other items that may be found in a gothic castle are all effective.
If you get images of an old, haunted castle in your mind and seek out items that would be appropriate in that kind of atmosphere, you will likely find the perfect accessories for gothic bedrooms!
Visit Our Store

Return from Gothic Bedrooms to Bedroom Themes