Jungle Themed Child Bedroom
by Sandi Gaddes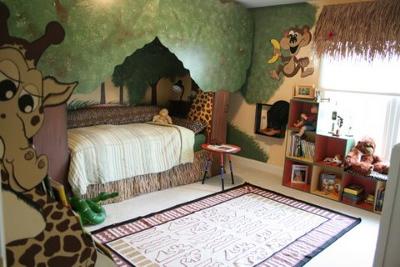 Jungle Themed Child Bedroom by Sandi Gaddes
This daybed started out as a wood bed and I cut out the trees and painted them.

The rug was a simple aztec design that we already had and worked well in room.

My husband designed a way to structurally and safely mount them to the daybed and the structures on inside are painted like a spotted giraffe.

It makes the experience of crawling into bed for a child, like crawling into the trees to sleep. I painted trees on the wall behind to enhance the feeling.

I designed this for my son who was turning 2 and going from a crib to a bed. Had to make it exciting so he would not be tempted to leave his bed at night.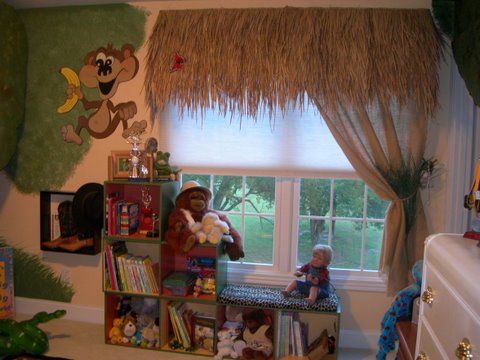 Window Valance made with real thatching and mounted on wooden valance cut out and put together to fit outside window trim.
Burlap drape used to give it more of a jungle feel. Used giraffe puppets for tiebacks on either side of window. Also made the cubbies in three sections so they are moveable and repositionable and painted in colors of jungle room.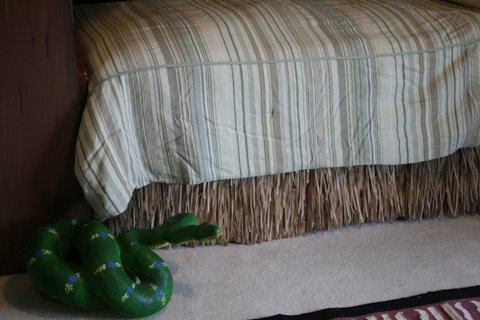 Bedskirt I made with leftover thatching from window valance. Hides the trundle twin underneath that easily pulls out to make two twins (for sleepovers with friends) or a king (when company visits).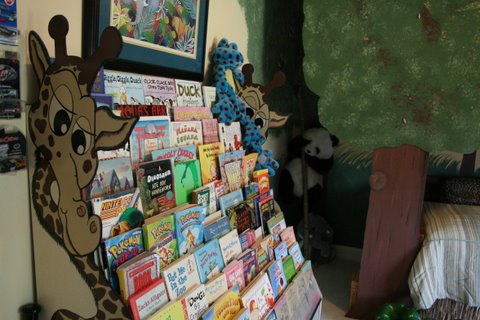 This was a card display we were going to throw away. Ends were open and ugly. Had idea that children can't really see books if in a bookshelf with spines only showing.
This front view of stacking the books were easy for my little boy to reach and see what books he wanted me to read. I cut out and painted 5 ft giraffe's front and back to mount to sides of card unit.
My inspiration for giraffe was from a coloring book and I love the giraffe's expression, he is so sweet.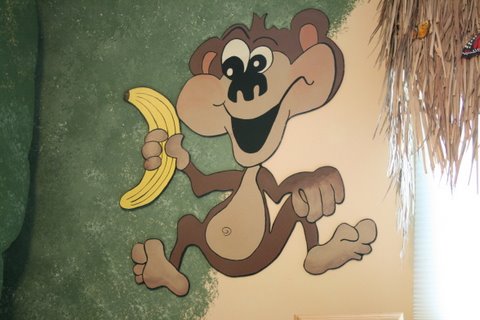 Had fun cutting out of luan and painting this sweet guy, expression says it all.